7ball, Jul / Aug 1997, #13
Cover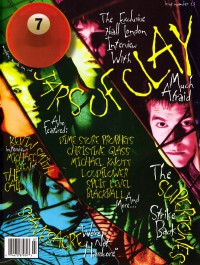 Writers in this Issue
Blinn, Beth
Bonham, Chad
Brown, Bruce A.
Brumley, Doug
Bumgarner, Dave
Caviness, Brad
Charles, Dylan
Chimento, Frank
DuFresne, Andy
Ebel, Jeff
MacIntosh, Dan
McCabe, Ginny
Mosh, Father
Newcomb, Brian Quincy
Parker, Mike
Well, Chris
Cover Feature:
"Much Afraid" by Frank Chimento, contributions by Chris Well, Bruce A. Brown
Article:
"The Resurrection of a Generation" by Ginny McCabe
"super tones" by Bruce A. Brown
Stavesacre by Beth Blinn
"Heavy Lifting" by Dave Bumgarner
"Where There's Pizza, There's Hope" by Dan MacIntosh
Media Watch:
Sigmund Brouwer by Brad Caviness
Interview:
"Maverick. Controversial." by Jeff Ebel
Bankshots:Album Review:Collision Point:
www.ricochetmusic.com & www.jesusfreak.com/whirl by Doug Brumley
blah, blah, blah
by Chris Well
This issue of
7ball
came bundled with
GAS #2
.