Event, Jul / Aug 1972, vol. 12, iss. 7
Cover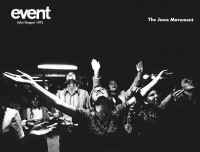 Writers in this Issue
Criss, Howard
Gallagher, Sharon
Hano, Arnold
Hora, Galen
Hustad, Jack
Jorstad, Erling
Miller, Francie
Peterson, Richard
Solheim, James
Williams, Don
The Jesus Movement
Article:
"Who Are The Jesus People?" by Arnold Hano
"A New Movement in the Land" by Don Williams

Covers the spiritual and intellectual background to the Jesus movement, and movement-related organizations, communal ideals, and how all of this challenges the traditional church.

"Fad or Future?" by Francie Miller

Looks at the Jesus movement in Canada, Emmaus House and the

Jesus Peoples' Army

"The Salvation Trip" by Galen Hora

Criticizes elements of the movement; mentions

Love Song

,

Children of God

, spiritual aspects

"What Kind of Jesus?" by Erling Jorstad

Explores the intellectual assumptions of the Jesus movement, especially the understanding of the person of Jesus, his teachings, and their implications.

"The Face of Need" by Richard Peterson

A brief look at a Jesus movement commune

"Making Christ An Issue" by Sharon Gallagher

Background to the

Christian World Liberation Front

"For or Against?" by Howard Criss

Reactions of mainstream churches to the Jesus movement. Explores how the

Christian World Liberation Front

has worked with institutional churches.
in the event:editorially:
presents information about how Lutherans can reach out to Jesus-movement adherents by Jack Hustad