HM, Oct 2013, #171
Cover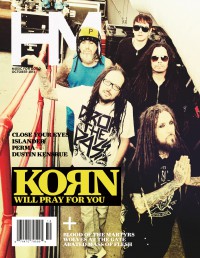 Online Exclusively
Writers in this Issue
Brehm, Sarah
Brock, Matt
Croteau, Justin
Eaves, Chelc
Francis, Matt
Garcia, Daniel
Gatto, Chris
Greiner, Matt
Harp, Lloyd
Houston, Robert
Huncherick, Sean
Mabee, Justin
Mika, Matthew
Nelson, Jon
Ray, Hailey
Roberts, Sarah Arendas
Sanchez, Melissa
Sides, Chad
Sistrunk, Jeff
Smith, Taylor Rhea
Stagg, David
Cover Feature:
"Korn Again" by David Stagg
Heaven's Metal:
"Flesh of My Flesh" by Justin Croteau
Article:
"The Story of Perma" by Melissa Sanchez
"The Sound of Satisfaction" by Jon Nelson
In Brief:
Blood of the Martyrs by Hailey Ray
"Adversity Can Make or Break You. Close Your Eyes Won't Even Bend." by Robert Houston
"True to the End" by Justin Mabee
The Jump:Album Review:The Jump: Columns:
"On inspiration and creativity" by Matt Brock
"There reality is a tree, part I" by Matt Greiner
"Our life is not a movie, or maybe..." by Matt Francis
Relevant Links
Official web site of HM
Online back issue publication
This issue is available exclusively online.