HM, Jun 2014, #179
Cover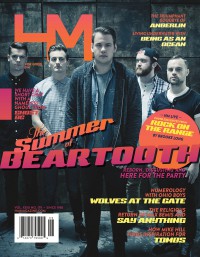 Online Exclusively
Writers in this Issue
Ashmore, Jeff
Bryant, Anthony
Croteau, Justin
Eaves, Chelc
Francis, Matt
Gonzales, Jordan
Greiner, Nielson
Houston, Robert
Huncherick, Sean
Key, Nathan
Long, Brooke
Mabee, Justin
McCormack, Jeff
Rake, Jamie Lee
Rickaby, Ben
Sanchez, Melissa
Santos, Sarah Dos
Sides, Chad
Simula, Collin
Smith, Taylor Rhea
Stagg, David
Cover Feature:
"Warped. 'Disgusting.' Surprisingly Honest" by Collin Simula
Article:
"The End of an Era" by Melissa Sanchez
"The Most Inspirational Songwriter of a Generation" by Taylor Rhea Smith
"Storytelling with Wolves at the Gate" by Jordan Gonzales
"A Passionate Conversation with Being as an Ocean frontman Joel Quartuccio" by Robert Houston
"They Will Be Added To Your Number Daily..." by Sean Huncherick
Says:
"Tombs Says" by David Stagg

Tombs

, Mike Hill interviewed
The Jump:
"Behind the Beliefs of A Nameless Ghoul From Ghost B.C." by Robert Houston
"RYNBLKMRTN" by Sarah Dos Santos
"This is The Suit I Wear to Work" by Chad Sides
Album Review:The Jump: HM Live:
"Rock on the Range" by photo section by Brooke Long
The Jump: Books:The Jump: Columns:
"I Want to Live For Something" by Matt Francis
"Everything You Hear About Me Is True" by Collin Simula
"The Resurrected Life, pt. 1: We Live Because He Lives" by Nielson Greiner
Relevant Links
Official web site of HM
Online back issue publication
This issue is available exclusively online.