Heaven's Metal, Dec 1990 / Jan 1991, #27
Cover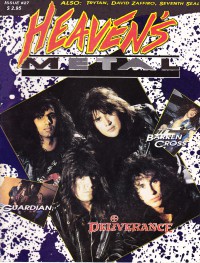 Writers in this Issue
Beeman, Bob
Carey, Jim
Carpenter, Marc
Chalmers, Phil
Cola, Ron
Knight, Joey
Myers, Nelson
Scheetz, Jeff
Schmutzer, Steve
Van Pelt, Doug
Whitaker, Beth Fadeland
White, Steven
Willis, I. B.
Wilson, John
Cover Feature:
"Daring To Deliver" by Steve Schmutzer
Article:
"Guardian's Fire and Love" by Doug Van Pelt
"The State of Intensity" by Doug Van Pelt, Beth Fadeland Whitaker
"Crying Out For Holy Soldier" by Doug Van Pelt
"In Zaffiro's Storm" by Doug Van Pelt
"Trytan Breaks The Silence" by Jim Carey
"Stevie's Saintly Boogie" by Doug Van Pelt
"Opening Up Seventh Seal" by Marc Carpenter
What ... Sez:Album Review:Concert Review:
"Upon This Rock Festival, Karlsdorf, West Germany" by Ron Cola
"Austin, TX" by I. B. Willis
Pastor Bob's Column
by Pastor Bob
Poster:Licks & Tricks
by Jeff Scheetz
HM Back Page:
"Grace"