Heaven's Metal, May / Jun 1993, #41
Cover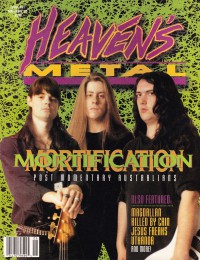 Writers in this Issue
Allison, Kevin
Beeman, Bob
Breise, Camille
Gates, Charles
Gish, Jeff
Hart, David S.
Jenison, David A.
Lott, Jeff
Love, Thomas
Mineo, Robert
Scheetz, Jeff
Van Pelt, Doug
Cover Feature:
"Mortification's Afflictions and Answers"
Article:
"Magdallan's Facelift" by Kevin Allison
"Hi! We're Killed By Cain" by David A. Jenison
"The Jesus Freaks' Dues and Don'ts" by David S. Hart
"Believing In Uthanda" by David A. Jenison
"Industrial Strength Christian Music"
"Happiness On The Road With Crashdog" by Thomas Love
What ... Sez:Album Review:Concert Review:Pastor Bob:
"Waiting, Dating, and Mating" by Pastor Bob
Licks & Tricks
by Jeff Scheetz
HM Back Page:
"Justice?"
Relevant Links
For more information about
HM
visit
.