HM, Nov / Dec 2003, #104
Cover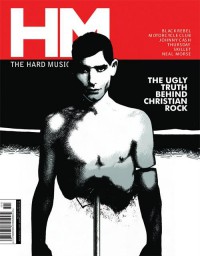 Writers in this Issue
Allen, David
Ellinger, Jeffrey
Francz, Chris
Giachero, Joe
Haley, Lee
MacIntosh, Dan
Martin, Ronnie
Mendonca, Joe
Milburn, Jason
Morrow, Matt
Newcomb, Brian Quincy
Olson, Chad
Patton, Christopher
Rake, Jamie Lee
Rose, Christopher
Shore, Tony
Siegel, Judah
Stevenson, Stewart
Stress, Kriss
Thompson, John J.
Van Pelt, Doug
Wighaman, Chris
The Ugly Truth Behind Christian Rock
Cover Feature:
"The Ugly Truth Behind Christian Rock" by Doug Van Pelt
Article:
"Beyond Relevance" by John J. Thompson
Black Rebel Motorcycle Club by David Allen
"Close To The Edge: The Journey of Neal Morse" by Tony Shore
Skillet by Chad Olson
"If I Had A Dream. Whatever Happened To Undercover" by Ronnie Martin
Hardnews:So & So Says....:Morrow Metal Report:Album Review:Live Report:
Rock of Ages Tattoo Festival
Editorials, opinion, and commentary:
"What's Wrong With The Christian Music Industry?" by Jason Milburn
The Way I See It
by Chris Wighaman
Judah What?
by Judah Siegel
Relevant Links
For more information about
HM
visit
.