HM, Jul / Aug 2005, #114
Cover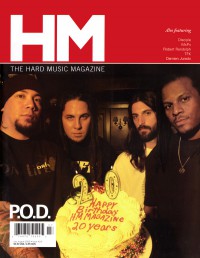 Writers in this Issue
Allen, David
Callaway, Chris
Chow, Tiffany
Clark, Ryan
Crabb II, Kemper B.
Danglis, David
Estey, Chris
Fisher, Mark
Fitzhugh, Bruce
Francz, Chris
Frazier, Dan
Hall, Amy E
Hellig, Ed
Huff, David
Jesse, Daniel
Johnson, Bethany
Johnson, Darren
Kid, Kern County
Larson, Erika
Lenz, Lori
Losey, Steven Douglas
MacIntosh, Dan
Martin, Ronnie
Masri, Bonnie
Morrow, Matt
Nash, Len
Newcomb, Brian Quincy
Olson, Chad
Pelt, Charlotta Van
Rake, Jamie Lee
Rhorer, Sean Patrick
Robinson, Adam
Shore, Tony
Short, Chris M.
Spitzer, Bradley
Stagg, David
Stress, Kriss
Thompson, John J.
Tindell Jr., Darren
Troutman, Chris
Tucker, Greg
Unger, Brad
Van Pelt, Doug
Wertz, James
Wighaman, Chris
Wilson, Gord
P.O.D. & 20th Anniversary
Cover Feature:
"Writing The Album of Our Lives" by Adam Robinson
Article:
Denison Witmer by Dan MacIntosh
"Survival School" by David Huff
"This Is Not A Damien Jurado Interview" by Sean Patrick Rhorer
"The Theory of Evolution"
House of Heroes by David Stagg
"Keeping It Real" by Brian Quincy Newcomb
Haste the Day by Kriss Stress
The Agony Scene by Doug Van Pelt
Kekal by Ed Hellig
Kids In The Way by Steven Douglas Losey
The Rocket Summer by Amy E Hall
Becoming The Archetype by Bradley Spitzer
Homeless J by John J. Thompson
Headphones by Chris Troutman
"Building Up by Breaking Down" by Erika Larson
History of HM magazine by Doug Van Pelt
"History of Christian Rock" by Brian Quincy Newcomb
"History of Christian Metal" by Bruce Fitzhugh, Darren Johnson
"Metal vs Emo" by Daniel Jesse, David Stagg
"Bands On Bands"

Artists comment on the artistic work of other artists

"Kingdom of Fear" by Tony Shore, David Danglis
"Why It Matters" by Chris Estey

The impact of Christian popular music in greater context

"Fighting Boredom On The Road" by Lori Lenz
"...wanna Revolution?"
Hardnews: Quick & Concise:
"Outearning EM(I) All"
"Petra Over After 33 Years..."
"Children 3:18 Win 3 degree Band Tournament"
Hardnews:So & So Says....:Heaven's Metal:Hard Music History:Album Review:Live Report:
Gospel Music Week

by Doug Van Pelt
U2 by David Allen
The Way I See It
by Chris Wighaman
Devotions
by Greg Tucker
The Christian and Art:
"A Few Observations On Worship, Part 4" by Kemper B. Crabb II