HM, Nov / Dec 2007, #128
Cover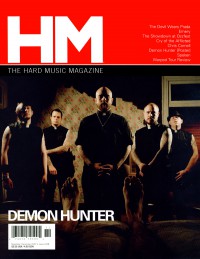 Writers in this Issue
Beck, Chris
Conner, Matt
Crabb II, Kemper B.
Curtis, Amanda
Doyle, Nathan
Frazier, Dan
Gerst, Timothy
Gilbert, Brenten
Hallila, Tim
Harp, Lloyd
Hauck, Rachael
Hunt, Jeremy
Losey, Steven Douglas
MacIntosh, Dan
Newton, Adam P
Rake, Jamie Lee
Smith, Jenn
Stagg, David
Tucker, Greg
Van Pelt, Doug
Wighaman, Chris
Womack, Carey
Cover Feature:
"Opening Up The Fiery Gates" by Steven Douglas Losey
Article:
"Well Whoop De-Do" by Dan Frazier
"Does Ozzfest" by Doug Van Pelt
Pantokrator by Lloyd Harp
Immortal Souls by Chris Beck
"Will The Circle Be UnSpoken" by Steven Douglas Losey
"Non-Coincidental" by Matt Conner
"Keeping It In The Family" by David Stagg
"The Have Nots" by Brenten Gilbert
"I Love That song. Who Wrote It?" by Rachael Hauck

Songwriting
Hardnews:Hardnews: Enough Already!
by Jamie Lee Rake
So & So Says....:Album Review:Live Report:
Warped Tour by Doug Van Pelt
The Way I See It
by Chris Wighaman
Devotions
by Greg Tucker
The Christian and Art:
"The Disconnect: Why Evangelicals Make Bad Art (Part The Eighth)" by Kemper B. Crabb II
Poster: