HM, Jun 2013, #167
Cover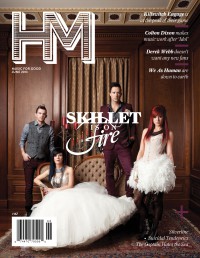 Online Exclusively
Writers in this Issue
Brehm, Sarah
Brock, Matt
Bryant, Anthony
Crabb II, Kemper B.
Croteau, Justin
Francis, Matt
Garcia, Daniel
Houston, Robert
Huncherick, Sean
Jaques, Wes
Rake, Jamie Lee
Roberts, Sarah Arendas
Sanchez, Melissa
Sides, Chad
Smith, Taylor Rhea
Stagg, David
Van Pelt, Doug
Wycoff, Collette
Cover Feature:
"Skillet Is Getting the Respect they Deserve" by Doug Van Pelt
"@Skillet"
Article:
"For the Love of the Game" by David Stagg
"Derek Webb Doesn't Want Any More Fans" by Robert Houston
Colossus by Collette Wycoff
"It's Never Going to Work: Colton Dixon's 'IDOL' Afterlife" by David Stagg
"Hideaway Is The '90s Band You've Been Missing" by Robert Houston
In Brief:... Says:The Jump:Album Review:The Jump: HM Live:
"Technically Screaming" by David Stagg
Columns:
"A Breakup Letter With Copeland" by Matt Francis
"The Choice to Worship" by Matt Brock
"Concerning "Jesus Is My Girlfriend" Songs: Observations on the Imbalances of Today's Worship: Part the Twelfth" by Kemper B. Crabb II
This issue of
HM
came bundled with
Heaven's Metal #100
.
Relevant Links
For more information about
HM
visit
.
This issue is available exclusively online.