HM, Jul 2014, #180
Cover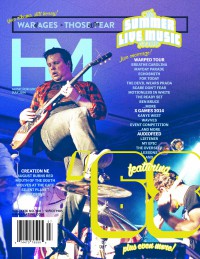 Online Exclusively
Writers in this Issue
Ashmore, Jeff
Brehm, Sarah
Casiraghi, Chiara
Croteau, Justin
Crouse, Amber
Francis, Matt
Gatto, Chris
Goudy, Roy
Greiner, Nielson
Huncherick, Sean
Ketchum, Jameson
Key, Nathan
Mabee, Justin
Mika, Matthew
Ray, Hailey
Simula, Collin
Stagg, David
Ullman, Zane
'68, Summer Festival Issue
The Summer Live Music Issue:
"Alive With the Glory of Love" by Amber Crouse

Alive Festival

"Children of the Corn" by David Stagg
"My Audiofeed" by Sean Huncherick

Audiofeed Music Festival

"Paying Respect"

Creation Festival, NC
Article:
"Death is in Their Blood" by Collin Simula
"Titans of Time" by Sean Huncherick
Summer Live Music: Instagram 'Em! What Was Your Favorite Summer Music Memory?:
"The Ghost Inside"

Jonathan Vigil

"The Story So Far"

Kelen Carpenter

"Mayday Parade"

Derek Sanders

"Echosmith"

Sidney Siertoa

"Vanna"

Vanna Musie

"Beartooth"

Caleb Schomo

"A Skylit Drive"

Michael Jagmin
Summer Live Music: Warped Tour:Summer Live Music: X Games:
"Such Great Heights" by David Stagg
The Jump:
"The Providental Life of Scare Don't Fear" by David Stagg
"Plus! Bonus Interview With KBB Records Artist Co-Founder and Asking Alexandria Guitarist Ben Bruce" by David Stagg
Album Review:The Jump: Columns:
"The Scariest of Thoughts" by Matt Francis
"Struggling with the bigger mystery of death" by Collin Simula
"The resurrected life, pt. II: The inspiration to live" by Nielson Greiner
Relevant Links
Official web site of HM
Online back issue publication
This issue is available exclusively online.