HM, Jun 2015, #191
Cover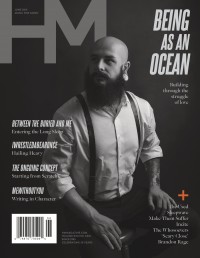 Online Exclusively
Writers in this Issue
Francis, Matt
Gonzales, Jordan
Huncherick, Sean
Ketchum, Jameson
Long, Brooke
Rowe, Madeline
Santos, Sarah Dos
Simula, Collin
Smith, Cam
Stagg, David
Cover Feature:
"The many sides of the ocean" by Sarah Dos Santos
Article:
"Clear Thinking" by David Stagg
Victorian Halls by Madeline Rowe
"Takes DIY to a New Level With Their Latest, Handmade" by Jordan Gonzales
"The Evolving Education of MeWithoutYou" by Sean Huncherick
Between the Buried and Me by Collin Simula
"Why so serious?" by David Stagg
Movies:
"The Beginning of an Era" by Jameson Ketchum, David Stagg
Photo Feature:
"Live at Webster Hall, New York, New York" by Brooke Long
"Live at The Fillmore, Silver Spring, Maryland" by Brooke Long
From the HM Vault:Columns:
"California Here We Come" by Matt Francis

Matt describes film school

"Insane Expectations" by Cam Smith

on touring and personal investment in community
This is the final issue of HM.
Relevant Links
Official web site of HM
Online back issue publication
This issue is available exclusively online.