7ball, Sep / Oct 1999, #26
Cover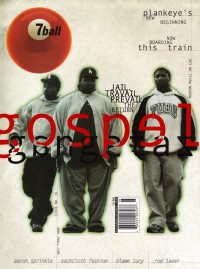 Writers in this Issue
Alexander, Melody
Bartenhagen, Marcia
Brooks, Thompson
Dixon, Amy E
Farris, Christina
Keyes, J. Edward
Martin, Rachel L
Newcomb, Brian Quincy
Olson, Steve
P.R.E.Z.
Simon, Matt
Sondova, Amy
Sprout, Jay
Strang, Cameron
Cover Feature:
"They're Back" by Thompson Brooks, additional reporting by P.R.E.Z.
Article:
"When It Rains It Pours" by Amy E Dixon
"Walking The Plank" by Marcia Bartenhagen
"Has No Bandwagon" by Brian Quincy Newcomb
Bankshots:Spotlight:Album Review:blah, blah, blah:
"Then There Was The Time..." by Cameron Strang
This issue of
7ball
came bundled with
GAS #15
.