7ball, Nov / Dec 1999, #27
Cover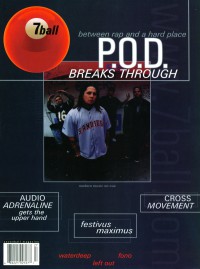 Writers in this Issue
Alexander, Melody
Bandoppler, Treble
Bartenhagen, Marcia
Brown, Todd
Giles, Keith
Jenison, David A.
Keyes, J. Edward
Martin, Rachel L
Metzler, Stu
Stauffer, Tia
VanArendonk, Nancy
Well, Chris
Cover Feature:
"R.E.S.P.E.C.T." by David A. Jenison
Article:
"An Old Dog's New Hits" by Marcia Bartenhagen
"Order In The Court" by Marcia Bartenhagen
Featurette:
"Hey, Whatever Happened to those guys?"
Bankshots:Spotlight:Album Review:blah, blah, blah:
"Building a Bigger Story" by Chris Well
This issue of
7ball
came bundled with
GAS #16
.