CCM, Apr 1988, vol. 10, iss. 10
Cover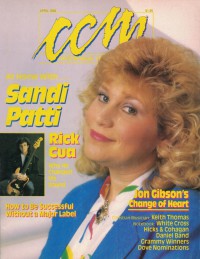 Writers in this Issue
Anderson, Warren
Atkinson, Mike
Baker, Paul
Brown, Bruce A.
Bunch, Darin
Buskirk, Gena L.
Camp, Steve
Disney, Dennis
Donaldson, Devlin
Eischer, Mark
Fischer, John
Frazer, Robyn
Newcomb, Brian Quincy
Pinzon, Scott
Rabey, Steve
Smith, Sandy
Sparks, Lana
Van Pelt, Doug
Wilkinson, Paul
Willman, Chris
Woodhams, Jon
Cover Feature:
"Home & Heart" by Warren Anderson
Article:
"How God Changed His Heart" by Gena L. Buskirk
"Cua Mellows Out (A Little)" by Sandy Smith
"Beating The System: Making It As An Independent" by Brian Quincy Newcomb
Christian Musician:Toys in the Band:Notebook:
"Pop Goes The Metal!" by Doug Van Pelt
"Petra Rallies For School Prayer"
"The Daniel Band: 10 Years On" by Paul Wilkinson
Hicks and Cohagan by Darin Bunch
"Gospel at the Grammys" by Bruce A. Brown
"Larnelle Leads Dove Nominees"
Whatever Happened To ...?:Celebrating Our 10th Year:What's New:In Concert:
"They Came, They Saw, They Conquered" by Lana Sparks
The Issue:
"Playing Marbles With Diamonds" by Steve Camp
John Fischer:
"Onward Christian Soldiers" by John Fischer