Heaven's Metal, Nov / Dec 1994, #50
Cover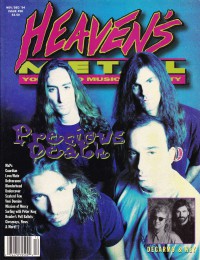 Writers in this Issue
Beeman, Bob
Blisten, Anders Joh
Clifton, Jason
Crabb II, Kemper B.
Crump, Andrew
Dave
Gustafsson, Staffan
Hershey, Brent
Hunt, Matthew B.
Jenison, David A.
Kaiser, Glenn
Lott, Jeff
MacIntosh, Dan
Rocker, Randy S
Scheetz, Jeff
Taylor (writer), Chris
Thompson, Dale
Tulloch, Mike
Van Pelt, Doug
Wilson, Jerry
Z., Fred
Cover Feature:
"Precious Death..." by Randy S Rocker
Article:
"MxPx Is Pokin' At Ya!" by Dan MacIntosh
"The Return of Scaterd Few" by David A. Jenison
"Prime Candidates For An Interview" by David A. Jenison
"Out From The Unknown" by Staffan Gustafsson
"Going To Extremes" by Jerry Wilson
"Riding The River Disturbance" by Dan MacIntosh
"My Private Surf Lesson With Peter King" by Doug Van Pelt
"A Trio of Two??" by Andrew Crump
"Swinging With Guardian" by Andrew Crump
"A Thinking Matter" by Brent Hershey
What ... Sez:Album Review:Concert Review:The Christian and Art:
"The Sons of Issachar: Knowing What Israel Should Do, Part IV" by Kemper B. Crabb II
Pastor Bob:
"The guys shouted..." by Pastor Bob
Ask Glenn...
by Glenn Kaiser
Poster:Licks & Tricks
by Jeff Scheetz
HM Back Page:
"I Don't Need The Church"