7ball, Sep / Oct 1997, #14
Cover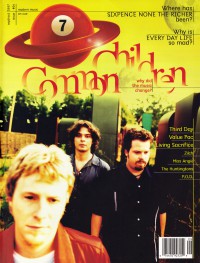 Writers in this Issue
Aderholdt, Danielle Lee
Blinn, Beth
Bonham, Chad
Brown, Bruce A.
Brumley, Doug
Bumgarner, Dave
Caviness, Brad
MacIntosh, Dan
McCabe, Ginny
Mosh, Father
Parker, Mike
Spitzer, Curtis
Well, Chris
Cover Feature:
"Less Volume... More Intensity" by Beth Blinn
Article:
"None The Wiser?" by Doug Brumley
"Righteous Anger" by Bruce A. Brown
"Taylor-Made Growth" by Chris Well
"Hotter Than Jalape?o" by Chad Bonham
Living Sacrifice by Brad Caviness
"The Resurrection of a Generation" by Ginny McCabe
Media Watch:Bankshots:Album Review:Collision Point:
actreal.com by Doug Brumley
blah, blah, blah:
"There's No Place Like Home" by Father Mosh
To The Extreme:
This issue of
7ball
came bundled with
GAS #3
.