CCM, Dec 1990, vol. 13, iss. 6
Cover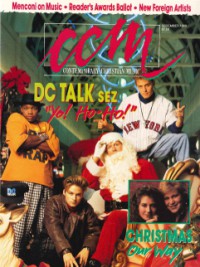 Writers in this Issue
Baldwin, Rick
Brown, Bruce A.
Card, Michael
Ervin, Kathleen A
Fischer, John
Geisler, David
Granger, Thom
Kennedy, Dan
Menconi, Al
Mitchell, Joan
Newcomb, Brian Quincy
Rabey, Steve
Rake, Jamie Lee
Rocker, Randy S
Smith, Tim A.
Van Pelt, Doug
Cover Feature:
"Def, Not Dumb" by Bruce A. Brown
Article:
"Christmas Our Way" by Steve Rabey
"Feed The Right Dog" by Al Menconi
New Faces:
"Keeping The Faith" by Joan Mitchell
"View From A Bigger World" by Tim A. Smith
In The News:
"New Bands From Foreign Shores" by Bruce A. Brown
"Through Scarlet Storms" by Randy S Rocker
"Rick Wakeman Records Album For ASSIST"
What's New:In Concert:
"The Back Room, Austin, TX" by Doug Van Pelt
"Way of Wisdom Tour, Mott Auditorium / US Center For World Missions, Pasadena, CA" by David Geisler
Outta Toon:Getting The Message:
"Joseph's Song" by Michael Card
John Fischer: