CCM Digital, Nov 2011
Cover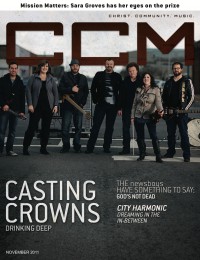 Online Exclusively
Writers in this Issue
Argyrakis, Andy
Conner, Matt
Greer, Andrew
Hoernschemeyer, Emily
Jackson, Tom
Lusk, Caroline
Shaver, Rachel
Shust, Aaron
Siler, Steve
Webb, Derek
Cover Feature:
"Drinking Deep" by Caroline Lusk
Article:
"Night of Joy: When the Happiest Place on Earth Comes Alive" by Caroline Lusk
"Dreaming of Home" by Caroline Lusk
"The Economy Class" by Matt Conner
Worship Expressions:
"Proper Preparation Prevents Poor... Worship?" by Aaron Shust
Worship:
"Unashamed [of His Name]" by Emily Hoernschemeyer
The Fringe:What's New:Musicians Corner: Writer's Room:
"The Eleventh Commandment" by Steve Siler
Musicians Corner: Gear Guide:
"The gear that brought Broadway magic to life" by Andrew Greer
Musicians Corner: In the Studio:CCM: Community:Out & About
by Andy Argyrakis
Reviews & New Releases:Tour Spotlight:
"I Remember Me Tour, Ravinia / Highland Park, IL" by Andy Argyrakis
CCM: Christ:
"Line 8 -- "For Thine is the Kingdom, the Power, the Glory Forever and Ever"" by Derek Webb, Rachel Shaver
Holy Homes:Mission Matters:
"Eyes on the Prize" by Caroline Lusk
Musicians Corner: Performer's Edge:
"What Do You Think?" by Tom Jackson
"Coat of Many Colors"
Relevant Links
Official web site of CCM Digital
This issue is available exclusively online.