Heaven's Metal, Jan / Feb 1995, #51
Cover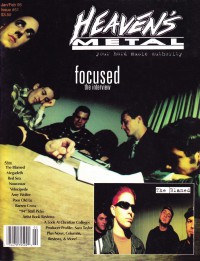 Writers in this Issue
Beeman, Bob
Cantwell, Alex
Choi, Jeremy
Clifton, Jason
Crump, Andrew
Hershey, Brent
Jenison, David A.
Lott, Jeff
MacIntosh, Dan
Muttillo, David
Roberts, Mitch
Rocker, Randy S
Scheetz, Jeff
Shirey, Eric
Taylor (writer), Chris
Van Pelt, Doug
Vice, Calvin J.
Wilson, Jerry
Cover Feature:
"Focused: The Interview" by Brent Hershey
Article:
The Blamed by Andrew Crump
"Making A Nouveaux Start" by David Muttillo
"Poor Old Lu... All Pretty For Heaven's Metal" by Randy S Rocker
"Released and Ratting Cages" by Andrew Crump
"Red Sea Stirs The Waters" by Jerry Wilson
"Sanity, Songs, and Salvation" by David A. Jenison
"Shooting From The Heart" by Dan MacIntosh
"Producer Profile: Sam Taylor"
Metal Tracks:What ... Sez:
"What Megadeth Sez" by Doug Van Pelt
Album Review:Concert Review:Pastor Bob:
"Want to Commit Suicide? Go Ahead!" by Pastor Bob
Doug's Diary:Licks & Tricks
by Jeff Scheetz
HM Back Page:
"Wanted: Prostitutes"