Heaven's Metal, Mar / Apr 1995, #52
Cover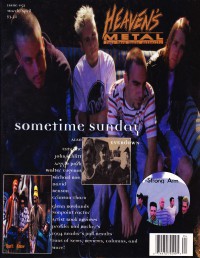 Writers in this Issue
Beeman, Bob
Blisten, Anders Joh
Callaway, Chris
Crabb II, Kemper B.
Crump, Andrew
Hershey, Brent
Hicks (writer), Bill
Howell, Dan J.
Jenison, David A.
Lott, Jeff
MacIntosh, Dan
Rocker, Randy S
Scheetz, Jeff
Van Pelt, Doug
Z., Fred
Cover Feature:
"Tougher Than Stone" by Andrew Crump
Article:
"ever down" by David A. Jenison
"Can We Be Serious?" by Andrew Crump
Strongarm by Dan MacIntosh
"Large Shake To Go, Please" by Randy S Rocker
"Who Plays In Argyle Park?" by David A. Jenison
"They're Back" by Chris Callaway
"Roe Spills His Milk" by Doug Van Pelt
"Fresh Produce" by Brent Hershey
Mike Delaney, "beats" in music,

Rad Rockers

by Dan MacIntosh
What ... Sez:Album Review:Concert Review:The Christian and Art:
"The Sons of Issachar: Knowing What Israel Should Do, Part V" by Kemper B. Crabb II
Pastor Bob:
"Can I Hear a Testimony?" by Pastor Bob
Doug's Diary:
Seminar In The City, Promise Keepers by Doug Van Pelt
Licks & Tricks
by Jeff Scheetz
HM Back Page:
"Divine Gumball Machine"