HM, Jan / Feb 2001, #87
Cover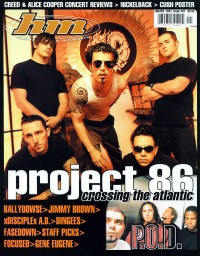 Writers in this Issue
Bandoppler, Treble
Barber, Michael
Beeman, Bob
Campbell, Earl
Crabb II, Kemper B.
Cummings, Chuck
Denton, Wesley
Dodd, Jason E
Estey, Chris
Gutwein, Katherine L
Hamamoto, Andi
Kid, Kern County
MacIntosh, Dan
McCready, Tim
Reed, Bethany
Rutherford, Brian
Scheetz, Jeff
Tomlinson, Bob
Van Pelt, Doug
Cover Feature:
"Crossing The Atlantic" by Jason E Dodd
Article:
"Meet the Asst. Editor" by Treble Bandoppler
Born Blind by Earl Campbell
XdiscipleX AD by Tim McCready
The Dingees by Jason E Dodd
Fasedown by Dan MacIntosh
"No Sleep 'Till Baghdad" by Tim McCready
"Fearful (A)Symmetry" by Doug Van Pelt
"Power Bill"
"Fundamentally on the Real" by Treble Bandoppler
Hardnews:So & So Says....:Album Review:
U2 -

All That You Can't Leave Behind

by Chris Estey
Damien Jurado -

Ghost of David

by Chris Estey
Mortification -

The Silver Cord Is Severed

by Brian Rutherford
Puller -

What's Mine At Twilight

by Doug Van Pelt
Anguish Unsaid -

The Chronicles of the Restoration of the Church

by Jason E Dodd
Collective Soul -

Blender

by Wesley Denton
The Dingees -

The Crucial Conspiracy

by Treble Bandoppler
XdiscipleX AD -

Heaven and Hell

by Doug Van Pelt
Blenderhead -

Figureheads on the Forefront of Pop Culture

by Kern County Kid
Pillar -

Above

by Jason E Dodd
Ballydowse -

Out of the Fertile Crescent

by Chris Estey
Spark -

Tomorrow Is Today

by Brian Rutherford
Forty Save One -

Something Fierce

by Kern County Kid
Fringe -

For The Vagabond Believer

by Doug Van Pelt
Kerith Ravine -

The Streams of Jettison

by Jason E Dodd
various artists -

Punk Praise Volume One

by Dan MacIntosh
various artists -

We the Living, Vol. 3

by Doug Van Pelt
The Walter Eugenes -

Something Sick Inside My Head

by Doug Van Pelt
Starflyer 59 -

Easy Come Easy Go

by Jason E Dodd
various artists -

Hip Hop Praise

by Jason E Dodd
Spite of Opposition -

Crucify the Flesh

by Jason E Dodd
Concert Review:
Collective Soul, Creed by Doug Van Pelt
"Focused Reunion" by Andi Hamamoto
"Gene Eugene Tribute Show" by Chuck Cummings
"Offenbach, Germany June 27th, 2000" by Michael Barber
The Alarm 2000 by Doug Van Pelt
Editorials, opinion, and commentary:
"Christians Undercover" by Bob Tomlinson
The Christian and Art:
"The Sons of Issachar: Knowing What Israel Should Do, Part XX" by Kemper B. Crabb II
Pastor Bob's Column
by Pastor Bob
Poster:Licks & Tricks
by Jeff Scheetz
HM Back Page:
"The Hill of Crosses"