HM, Dec 2011, #151
Cover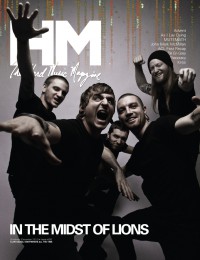 Online Exclusively
Writers in this Issue
Aguirre, Allan
Bryant, Tony D.
Cotrufo, Nick
Crabb II, Kemper B.
Edwards, Reggie
Francis, Matt
Garcia, Daniel
Glunt, Mark Blair
Grove, Tabitha
Johnson, Chad
Kid, Kern County
Leonard, Matthew
Leonardo, Alexandra
Lugo, Joanna
MacIntosh, Dan
McAllister, Levi
McNeal, Brittany
Rake, Jamie Lee
Reynolds, Mike
Shameless, Rob
Stagg, David
Swank, Jonathan
Van Pelt, Doug
Cover Feature:Article:Hardnews: Quick & Concise:
"Hawk Nelson Singer Flies Solo"
"ABR Release Christmas Song"
"Becoming The Archetype Change Its Architecture"
So & So Says....:Industry Profile:
"Industry Profile: Jay Harren" by Doug Van Pelt
Album Review:Pick of the Litter:Live Report:The Christian and Art:
"The Disconnect: Why Evangelicals Make Bad Art (Part The Twenty-Ninth)" by Kemper B. Crabb II
Guest Editorial:
"Why Quit?" by Chad Johnson
g_editorial
by Mike Reynolds
Roots & Culture:
"of Olive Trees & Wild Branches (Part 1)" by Allan Aguirre
Tales From The Conservative Underground:
"Reunion Tour" by Matt Francis
Poster:
Relevant Links
For more information about
HM
visit
.
This issue is available exclusively online.