HM, Jan 2012, #152
Cover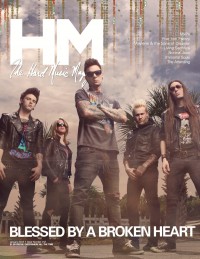 Online Exclusively
Writers in this Issue
Aguirre, Allan
Conner, Matt
Cotrufo, Nick
Crabb II, Kemper B.
Crothers, Kevin
Francis, Matt
Gatto, Chris
Johnson, Chad
Kid, Kern County
Leonard, Matthew
MacIntosh, Dan
Reynolds, David
Reynolds, Mike
Shameless, Rob
Spencer, Randy
Van Pelt, Doug
Wighaman, Chris
Cover Feature:
"Like Road Warriors..." by Doug Van Pelt
Article:Hardnews: Quick & Concise:
"CM Nexus Launches"

cmnexus.org

"For Today Announces Headline Tour"
"Your Memorial Heading Into Covenant Studios"
So & So Says....:Industry Profile:
"Industry Profile: Capitl Clothing Co." by Doug Van Pelt

Matthew Teribery
Album Review:Pick of the Litter:Live Report:
"Norma Jean Pizza Riot 2011 Tour" by Doug Van Pelt
The Way I See It:
"The Early Bird..." by Chris Wighaman
The Christian and Art:
"The Disconnect: Why Evangelicals Make Bad Art (Part The Thirtieth)" by Kemper B. Crabb II
Guest Editorial:
"Worried and Upset" by Chad Johnson
Intermission:
"Brian Godawa: Author | Noah Primeval" by Allan Aguirre
g_editorial
by Mike Reynolds
Roots & Culture:
"of Olive Trees & Wild Branches (Part 2)" by Allan Aguirre
Tales From The Conservative Underground:
"White, Cold Michigan Winter" by Matt Francis
ask. seek. rock.
by Randy Spencer
Poster:
Relevant Links
Official web site of HM
Online back issue publication
This issue is available exclusively online.