HM, Jul 2012, #157
Cover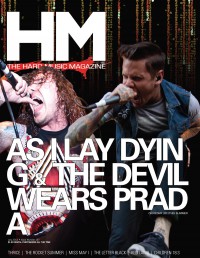 Online Exclusively
Writers in this Issue
Aguirre, Allan
Bryant, Tony D.
Buzzard, Justin
Conner, Matt
Francis, Matt
Hallila, Tim
Hecox, Seth
Johnson, Chad
Litrenta, Nick
Rake, Jamie Lee
Shameless, Rob
Stagg, David
Steffens, Charlie
Van Pelt, Doug
Cover Feature:Article:Hardnews: Quick & Concise:
"For Today Drummer Departs"
"Project 86 Album to Drop"
"Heaven's Metal fanzine to merge with HM mag"
So & So Says....:Industry Profile:Album Review:Pick of the Litter:Live Report:
"Facedown Fest" by Charlie Steffens
Guest Editorial:
"Torches Together" by Chad Johnson
Intermission:
"Autism Speaks" by Charlie Steffens
Tales From The Conservative Underground:
"Vol. 8 - You Were the Drink that Slurred My Speech" by Matt Francis
Columns:
"It's Your Fault: Marriage and Responsibility" by Justin Buzzard
HM Was There:Poster:
Relevant Links
For more information about
HM
visit
.
This issue is available exclusively online.