HM, Aug 2012, #158
Cover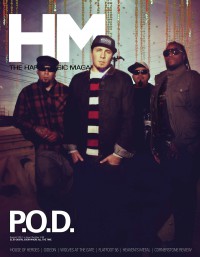 Online Exclusively
Writers in this Issue
Buzzard, Justin
Cunningham, Jeff
Dyson, Gerald
Francis, Matt
Garcia, Daniel
Gatto, Chris
Hallila, Tim
Hecox, Seth
Johnson, Chad
MacIntosh, Dan
Rake, Jamie Lee
Redondo, Don
Roberts, Sarah Arendas
Shameless, Rob
Stagg, David
Steffens, Charlie
Swank, Jonathan
Van Pelt, Doug
Cover Feature:
"Payable on Death: One Thing Only" by Charlie Steffens
Article:Hardnews: Quick & Concise:
"Switchfoot Headline Fall Tour"

Switchfoot

tidbits: touring on TV show Guitar Center Sessions, charity activities

"Fit For A King Signs Deal"
"Abandoned Pools to release on August 28"
Industry Profile:Album Review:Pick of the Litter:Live Report:
"Cornerstone Fest, July 2-7" by Doug Van Pelt
Guest Editorial:
"All Things Work" by Chad Johnson
Tales From The Conservative Underground:
"Vol. 9 - Dreaming for the Gold" by Matt Francis
Columns:
"Dream Big... In Your Marriage" by Justin Buzzard
Poster:
Relevant Links
Official web site of HM
Online back issue publication
This issue is available exclusively online.