True Tunes News, Fall 1993, vol. 5, iss. 8
Cover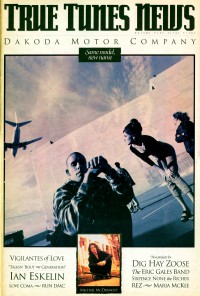 Writers in this Issue
B., Weezy
Brown, Bruce A.
Bunker, David
Ebel, Jeff
Edwards, Matthew J
Garrison, Chris
Hill, Don
Holton, Joseph
Jenison, David A.
Knudsen, Billy
Patrick, S. B.
Robertson, Mark
Thompson, John J.
Cover Feature:
"Same Name, New Model" by Bruce A. Brown
Article:
"Taking Love Into Their Own Hands" by John J. Thompson
"Slip Into A Love Coma" by John J. Thompson
"Techno prodigy traverses the globe in search of the meaning of life"
"A Journey With Michael McDermott: From Chicago of Gethsemane"
"Summer of Fests" by John J. Thompson
News Item:
"Welcome Syndicate Readers!"
Industrial Revolution:Beats Per Minute:Album Review:Shrapnel:Editorials, opinion, and commentary: