HM, Jan / Feb 2007, #123
Cover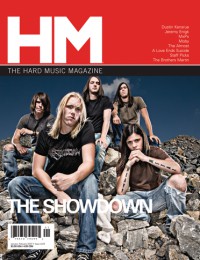 Writers in this Issue
Callaway, Chris
Conner, Matt
Crabb II, Kemper B.
Fisher, Mark
Frazier, Dan
Gerst, Timothy
Gilbert, Brenten
Hallila, Tim
Hunt, Jeremy
Kid, Kern County
MacIntosh, Dan
Newcomb, Brian Quincy
Newton, Adam P
Olson, Chad
Pease, Ariel
Pelt, Charlotta Van
Powell, Austin
Rake, Jamie Lee
Reeder, Eric
Robinson, Adam
Salles, Andre
Schwab, Andrew
Stagg, David
Thompson, John J.
Tucker, Greg
Van Pelt, Doug
Cover Feature:
"Wild-Eyed Southern Boys" by Andrew Schwab
Article:
A Love Ends Suicide by David Stagg
All In by Mark Fisher
"Bremerton MVPs" by David Stagg
"The Soundtrack of Popeye" by Dan MacIntosh
"Dancehouse Revisited?" by Adam Robinson
The Almost by Doug Van Pelt
"From Whirlpool to Beyond Mercury"
"I Have A Dream... Original Zao" by Eric Reeder
I Am Ghost by Dan MacIntosh
Stars Are Falling by Jeremy Hunt
"I Believe" by Brian Quincy Newcomb
"Sintax.The.Terrific" by Brenten Gilbert
Interview:
"A Forest Full of Evergreens"
Hardnews: Quick & Concise:Hardnews:Hardnews: Enough Already!
by Jamie Lee Rake
So & So Says....:Heaven's Metal:Classic Moments:Album Review:Live Report:Devotions
by Greg Tucker
The Christian and Art:
"The Disconnect: Why Evangelicals Make Bad Art (Part The Third)" by Kemper B. Crabb II
Poster: