HM, Apr 2013, #165
Cover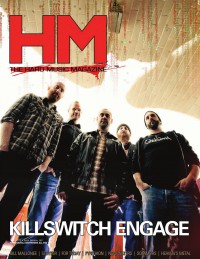 Online Exclusively
Writers in this Issue
Crabb II, Kemper B.
Farrell, Paul
Francis, Matt
Johnson, Chad
Newcomb, Brian Quincy
Shameless, Rob
Stagg, Barry
Stagg, David
Van Pelt, Doug
Wycoff, Collette
Cover Feature:
"Version 3.0" by Doug Van Pelt
Article:Album Review:Devotions:
"Hope Hospital" by Paul Farrell
The Christian and Art:
"Concerning "Jesus Is My Girlfriend" Songs: Observations on the Imbalances of Today's Worship (Part the Tenth)" by Kemper B. Crabb II
Guest Editorial:
"One Thousand Risks" by Chad Johnson
Tales From The Conservative Underground:
"Vol. 15 - The Death of Tooth & Nail" by Matt Francis
This issue of
HM
came bundled with
Heaven's Metal #98
.
Relevant Links
Official web site of HM
Online back issue publication
This issue is available exclusively online.