CCM Digital, Nov 2013
Cover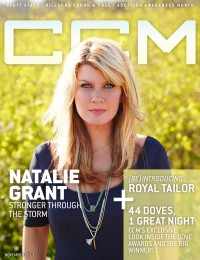 Online Exclusively
Writers in this Issue
Ahlbrandt, Martha
Argyrakis, Andy
Aspinwall, Grace S.
Cartwright, Grace C.
Conner, Matt
Evans, Russell
Gambill, Charlotte
Grant, Natalie
Greer, Andrew
Haseltine, Dan
Lusk, Caroline
Maclean, Dara
Mohr, Kevin
Tasker, Nathan
Thomas, Glenn
Cover Feature:
"The Eye of the Hurricane" by Caroline Lusk
Article:
"Common Creed" by Matt Conner
"(Re) Introducing Royal Tailor" by Caroline Lusk
In [His/Her] Own Words:Worship:
"The Sound of a New Generation" by Caroline Lusk
"The Story Behind Matt Redman "10,000 Reasons"" by Caroline Lusk
"Worship: The Road to Revelation" by Russell Evans
Musicians Corner: Story Behind the Song:
""Painting Pictures of Egypt" & "All Things Right Here""
Spotlight:Your World:
"The Orphans Next Door: Foster Care and Adoption in America" by Martha Ahlbrandt
"Where is the Voice of Protest?" by Dan Haseltine
What's New:Musicians Corner: Gear Guide:
"Digital Audio Workstation" by Glenn Thomas
Musicians Corner: In the Studio:Musicians Corner: Industry Insider:
"What's Your Story?" by Kevin Mohr
Photo Feature:
"Dove Awards 2013" by Caroline Lusk
Reviews:Tour Spotlight:
"Fading West Tour, Copernicus Center, Chicago, IL" by Andy Argyrakis
Your Heart:
"Dare to be Generous" by Natalie Grant, Charlotte Gambill
Your Home:
Relevant Links
Official web site of CCM Digital
This issue is available exclusively online.