HM, Nov / Dec 1999, #80
Cover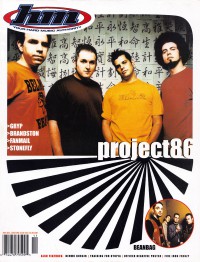 Writers in this Issue
(a girl called), Gordon
Aszterbaum, Joey
Avenger, Masked
Bandoppler, Treble
Beeman, Bob
Bixler, David
Crabb II, Kemper B.
DeLaurentis, John
Gibson, John
Hall, Kimberly
Konieczko, Melissa Marie
Lee, Gregory
MacIntosh, Dan
McGovern, Brian Vincent
Mengden, Ben
Rebel, Alderan
Scheetz, Jeff
Sondova, Amy
Sutton, Val
Van Pelt, Doug
Vasey, Karen
Cover Feature:Article:
Beanbag by Val Sutton
"Still Nuts After All These Years" by Brian Vincent McGovern
"What the Heck Are They Doing?" by Treble Bandoppler
Stonefly by Kimberly Hall
"Get A Gryp" by Dan MacIntosh
King David by Gregory Lee
Sick of Change by Melissa Marie Konieczko
"Blindside Crushes 'Em" by Val Sutton
"Down The Road With Jesse & the Rockers" by Karen Vasey
"Submissive To Their Vow" by Masked Avenger
Sleeping By the Riverside by Alderan Rebel
"They're Not Emo Darn-it!" by Amy Sondova
"Awakening Southern Africa to Goth-Rock" by Amy Sondova
"Tearing Down Robotic Christians" by Amy Sondova
"Opening Up the Fanmail" by John DeLaurentis
"If That Makes It Easier For Them..." by Dan MacIntosh
"Officer Negative's Last Stand" by Karen Vasey
So & So Says....:Album Review:Event Review:Musician's Quill
MAGIX Soundpools (software) by John Gibson
Charlie Peacock -

At The Crossroads

by Joey Aszterbaum
The Christian and Art:
"The Sons of Issachar: Knowing What Israel Should Do, Part XIII" by Kemper B. Crabb II
Pastor Bob's Column:
"Did You Hear About Proctor and Gamble?" by Pastor Bob
Poster:Licks & Tricks
by Jeff Scheetz
HM Back Page:
"But You Were Washed..."